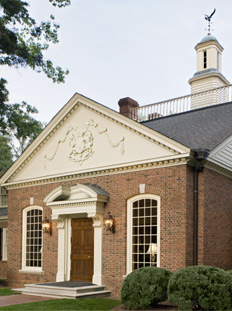 The History of Shoal Creek
"U.S. Open champion Hubert Green can be pardoned for a bogey 4…the scenery got in his eyes during his tee shot on the 189-yard hole guarded by water, wind and sand and shelter by Double Oak Mountain dressed in gorgeous hues for the occasion."
These words appeared in a caption beneath a photograph of Green as he teed off on the par-3 fifth hole during the ceremonial opening of Shoal Creek.
Read More »
Why a Golf Course?
Ironically Hall Thompson was prompted into action by a psychiatrist he had hired to test the employees at Thompson Tractor Company. When it was his turn to sit down with the "head shrink," he was asked what he had never done but would like to do.
Build a golf course was his reply.
Read More »
Naming of Shoal Creek
Shoal Creek is built on land that was once occupied by the Creek Indian Nation. Hall Thompson talks of possible names that he conjured with for the site.
"When we were trying to come up with a name for the course, we were attracted to the Creek Indian language. It is
phonetically very beautiful.
Read More »
Eagles and Shoal Creek
What's the fascination with eagles of Shoal Creek?
"Well, it's our nation's bird," Hall Thompson explained. "It appears on our currency…on the seal of the country. I can't say I've ever seen one fly over the Shoal Creek property, though, I decided to use the eagle statues just because of my love of the bird."
Thompson told the tale of the eagle weather vane that sits atop the cupola on the top of the clubhouse.
Read More »