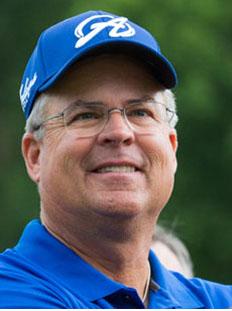 The 1984 PGA Championship
After only seven years in existence, Shoal Creek hosted the 66th version of this major championship. More than 138,000 fans saw the action, second at that time to the 1979 PGA Championship held at Oakland Hills in Bloomfield Hills, Michigan. With scores of 69-68-67-69 for a total of 273 for the four days, Lee Buck Trevino edged Gary Player and Lanny Wadkins by three strokes for the victory.
The 1986 U.S. Amateur Championship
Two years after the 84 PGA Championship, the USGA came to town. The U.S. Amateur was played at Shoal Creek on August 26th through the 31st. Stewart "Buddy" Alexander outplayed Chris Kite in the last match to win by five strokes with three holes to play.
The 1990 U.S. PGA Championship
On April 15th 1985, less than one year after hosting the 84 PGA Championship, Shoal Creek was awarded as the site of the 1990 PGA Championship. Australian Wayne Desmond Grady shot 72-67-72-71 over four days which was good enough to win the 92nd PGA Championship over second place finisher Fred Couples.
2008 U.S. Junior Amateur Championship
18 years would pass before Shoal Creek would host another Championship. The USGA again decided that Shoal Creek was worthy of one of their championships and awarded the 08 U.S. Jr. Am. The championship took place July 21st through the 26th with Cameron Peck of Olympia, Washington claiming the victory. At age 17, Peck won the title match against Evan Beck of Virginia by ten strokes with eight holes to play.
2010 Southern Amateur Championship
Abilene Christian University sophomore Alex Carpenter fired a 6-under par 30 on the back nine at Shoal Creek to charge through the field and capture the 104th Southern Amateur Championship. The Little Rock native shot 70-67-70-66 to edge Patrick Cantlay by one shot.
2011, 2012, 2013, 2014 & 2015 Regions Tradition Championship
In the past five years the Champions Tour hosted one of its major championships at Shoal Creek. Shoal Creek was awarded the "Presidents Award" in 2011 as the PGA and players felt it was the best on the tour. The Tradition also was able to donate close to $1,000,000 to various charities.
The 2018 U.S. Women's Open
Ariya Jutanugarn fired rounds of 67-70-67-73 and survived in a thrilling four-hole playoff with Hyo Joo Kim to win. It was the second major championship for the long-hitting Jutanugarn following her victory at the 2016 AIG Women's British Open.